Wellness in Business
Act to combat the stress of your employees!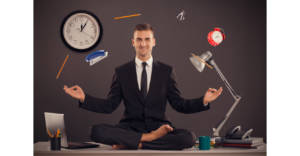 The motivation and well-being of workers are essential factors for efficiency at work.
Investing in the well-being of your employees yields one of the best returns on investments possible for your business.
To help you with the well-being program in your business, I offer you two techniques of which the effectiveness has already been proven, and which can be easily applied in your company:
CHAIR MASSAGE (SEATED AMMA)
Simplicity, speed and efficiency!
This massage is accomplished over clothes on an ergonomic chair for 15-20 min. It uses pressures, stretches and swings mainly targeting back, hands, arms, neck and head.
When integrated into a company's daily schedule, chair massage (seated Amma) allows a brief moment of physical and mental relaxation without interfering with your time management or use. The feeling of lightness without sleeping allows you to resume working immediately after the massage.
It is also the perfect massage for your events.
DYNAMIC SOPHROLOGY®
The rate of employee absenteeism due to stress and burn-out is currently estimated at about 10% of salary costs. Are you prepared to invest 1% of your employees' time to significantly reduce this absenteeism?
Dynamic Sophrology ® is the ideal tool for your company's wellness program. Mainly applied as a secondary prevention strategy in the management of Psycho-Social Risks (PSR), its use in professional settings provided real added value for everybody involved, both employees and employers. By drastically reducing absenteeism and increasing motivation, it is the best investment you can currently make in your company.
Don't wait any longer and act now to improve the well-being of your employees on a daily basis, and reduce the absenteeism rate in your business.