Dynamic Sophrology in Business
DYNAMIC SOPHROLOGY® AT WORK
Improve the well-being and daily lives of your employees and reduce the absenteeism rate in your company.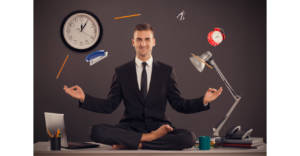 The rate of employee absenteeism due to stress and burn-out is currently estimated at about 10% of salary costs. Are you prepared to invest 1% of your employees' time to significantly reduce this absenteeism?
Dynamic Sophrology ® is the ideal tool for your company's wellness program. Mainly applied as a secondary prevention strategy in the management of Psycho-Social Risks (PSR), its use in professional settings provided real added value for everybody involved, both employees and employers. By drastically reducing absenteeism, it is the best investment you can make in your company.
SIMPLY EFFICIENT
All the details of this tool on my page dedicated to Dynamic Sophrology ®, how it works in practice, why it's effective, the cognitive mechanisms on which it is based, etc …
Through simple exercises, which can be practised independently without coaching, the techniques of sophrology help to:
Develop concentration, eagerness to act and motivation
Improve stress management and overall relaxation
Gain greater control of emotions
Strengthen self confidence
Increase intuition and creativity.
MANY BENEFITS IN BUSINESS
In professional settings, it helps to:
Improve well-being in the workplace
Promote personal growth and development
Reduce absenteeism
Create a favourable working environment
Improve the quality of work
Promote communication and synergie within teams
Increase intuition and creativity
Strengthen individual and collective positive thinking
Increase client satisfaction
Introductory sessions can be held in the workplace These sessions last between 1h and 1h20 depending on the size of the group (up to about 12 people).
In order to be really effective, regular Sophrology sessions are required to allow the learner to assimilate the tool of sophrology and to produce lasting effects for the employee and the employer. A regular program every 15d is recommended.
Discover all the details of this tool on my page dedicated to Dynamic Sophrology or contact me to have me present this tool to your works council.
STANDARD PRICE:
€70 excl. VAT per hour for a single session of minimum 3h during which 2 or 3 groups can be seen depending on the size of the groups (up to 12 people per group)
Travel costs of €0.36 per kilometer from Ronquières, or assume public transport costs.
FOR A PERSONALIZED QUOTE PLEASE PROVIDE THE FOLLOWING INFORMATION:
Regular sessions or contract
Frequency: 1 x per month, 2 x per month, 1 x per week, …
Number of people  (min 4 – max 12)
Preferred time of day: morning, noon, afternoon